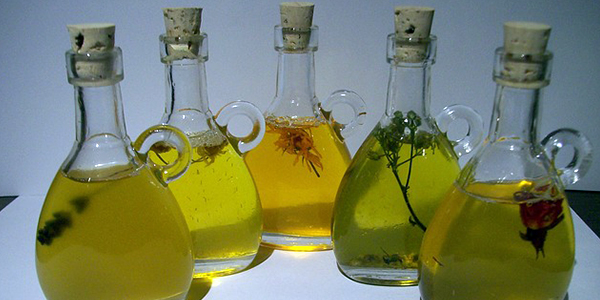 These oils are particularly useful when performing the homages to the elements from this site. the homages are even more powerful and impacting when oils and incenses that you have empowered yourself are used.
Your base oil can be Jojoba (very expensive), grape seed oil, pure virgin olive oil, almond oil or other light, pure oil. Do NOT use cooking oil such as Crisco or Wesson as the oil will turn rancid in a short amount of time.
Swirl the essential oils into the base oil, do not stir. Gently rotate the oil counter clockwise.
Store the oil away from heat in an amber or opaque bottle.
OK to use immediately, but turn the bottle gently every day for the first 2 weeks
* INDICATES ACCEPTABLE SUBSTITUTES
EARTH
EARTH INCENSE
2 PARTS PINE NEEDLES
1 PART POWDERED PATCHOULI
1 PINCH SALT – FINELY POWDER
Mix well and add:
A FEW DROPS CYPRESS OIL *JUNIPER, PINE
1 PART GROUND THYME *ROSEMARY
EARTH OIL
1/8 CUP BASE OIL
4 DROPS PATCHOULI ESSENTIAL OIL *OAKMOSS
4 DROPS CYPRESS ESSENTIAL OIL *JUNIPER, PINE
AIR
AIR INCENSE
4 PARTS BENZOIN
3 PARTS FRANKINCENSE
3 PARTS SANDALWOOD
2 PARTS DRAGON'S BLOOD
2 PARTS GUM MASTIC
(GUM ARABIC & FRANKINCENSE IN EQUAL PARTS)
1 PART LAVENDER
1 PINCH WORMWOOD
1 PINCH MISTLETOE *MINT, SAGE
1 PART MUGWORT
Mix Well
AIR OIL
1/8 CUP BASE OIL
5 DROPS LAVENDER
3 DROPS SANDALWOOD *CEDAR
1 DROP NEROLI *ORANGE OIL
FIRE
FIRE INCENSE
3 PARTS FRANKINCENSE
2 PARTS DRAGON'S BLOOD
1 PART RED SANDALWOOD (RED SANDALWOOD IS SANDALWOOD WITH A PINCH OF DRAGON'S BLOOD, which is the root of a particular African palm tree )
1 PINCH SAFFRON *ORANGE PEEL
Mix well and add
A FEW DROPS MUSK OIL
FIRE OIL
1/8 CUP BASE OIL
3 DROPS GINGER
2 DROPS ROSEMARY
1 DROP CLOVE *MACE, NUTMEG
1 DROP PETITGRAIN
WATER
WATER INCENSE
2 PARTS BENZOIN
1 PART MYRRH
1 PART SANDALWOOD
A FEW DROPS LOTUS BOUQUET
(ROSE, JASMINE, WHITE MUSK, YLANG YLANG)
A FEW DROPS AMBERGRIS OIL
(CYPRESS & PATCHOULI)
WATER OIL
1/8 CUP BASE OIL
3 DROPS PALMAROSA
2 DROPS YLANG YLANG *CHAMOMILE
1 DROP JASMINE
OTHER INTERESTING BREWS
HORNED GOD INCENSE
2 PARTS BENZOIN
(GUM ARABIC, MASTIC)
1 PART CEDAR
1 PART PINE
1 PART JUNIPER BERRIES *PINE
A FEW DROPS PATCHOULI OIL
PAN OIL
1/8 CUP BASE OIL
3 DROPS PATCHOULI *OAK MOSS
2 DROPS JUNIPER
1 DROP PINE
1 DROP OAKMOSS BOUQUET
(VETIVERT AND CINNAMON OIL)
1 DROP CEDARWOOD
SEXUAL ENERGY OIL
1/8 CUP BASE OIL
2 DROPS GINGER
2 DROPS PATCHOULI *OAKMOSS
1 DROP CARDAMON
1 DROP SANDALWOOD *CEDAR